Rebels with a Cause: Working with Adolescents Using Action Techniques
with Mario Cossa, USA/Bali

Module 1. Foundations of Working in Action with Adolescents

In this module presenter demonstrates how to develop more effective, and engaging approach than talking, to those who work with youth. He provides clear explanations and instructions for using action techniques from Psychodrama, Sociodrama, and Sociometry for working with this population.

Working with adolescents offers unique challenges related to the neurological, biological, and social acceleration that happens from the onset of puberty into the early 20s. Since the outset of the Covid Pandemic, the intensity of these challenges has increased significantly. This module provides an overview of the developmental challenges of this population and an explanation of why action methods are particularly suited to working with youth. It also gives a summary of the professional experiences of the presenter Mario Cossa, which has led him to being a recognized leader in the field. 
For those who work with youth (11 to 24 years old) online or in-person:
Therapists, Counselors, Educators, Teachers, Coaches, Substance use Counselors and parents.
Goal:
Describe the developmental needs of Adolescents, and the ways that action methods can support youth workers in guiding members of this population.
Objectives: 
• Describe physical, neurological, and social changes that occur during adolescence;
• Define the age range currently considered as "adolescence";
• Practice to direct action techniques suited to working with adolescents.
Presenter:
Mario Cossa RDT/MT, TEP, TSM Trainer – founder and Director of Motivational Arts Unlimited, and recipient of the ASGPP Innovator's Award, 2019. Mario brings decades of experience as a group facilitator and psychodrama director and has worked in the USA, Canada, the UK, Australia, New Zealand, Malaysia, Indonesia, Korea, and China.


Module Includes:

Main Content:

• Video lectures - 60 min
• Video Demonstration - 59 min
• Handouts - 30 min 
• Test - 30 min 
• Course Survey - 5 min 
Recommended Content:
• Psychodrama with Adolescents. Interview with M.Cossa. 3 Parts.
• Practicum - 90 min
Hours for Certificate:
• 4.5 Hours on Action Exploration Education Certificate (applicable for Psychodrama certification)
• 2.5 Hours on CE (excludes test, survey and practicum time)

Information on Continuing Education Credits
Psychodrama professional certification training hours: 
• American Board of Examiners - ABE accepts a maximum of 120 training hours for psychodrama distance learning. This module/course will count as asynchronous distance learning as long as the primary trainer approves it.
• International Boards: You may be able to submit this certificate to your local Psychodrama board. Please contact your respective local board for information.


To obtain Psychodrama training hours:
a) Pass the test with at least 70% correct;
b) Fill in the survey.

Experiential training hours: 
• International Society of Experiential Professionals: ISEP accepts experiential training hours administered by a TEP trainer. More information will be provided shortly. 
Social workers, Marriage and Family Therapists, and Professional Counselors: 
• We are working on getting board's approvals and will update this information shortly. 


Other Disciplines:
• You may be able to submit this certificate for credits in other mental health disciplines. Please contact your local board for information.

Module Curriculum

*Recommended Videos Not Included in Total Hours for Certificate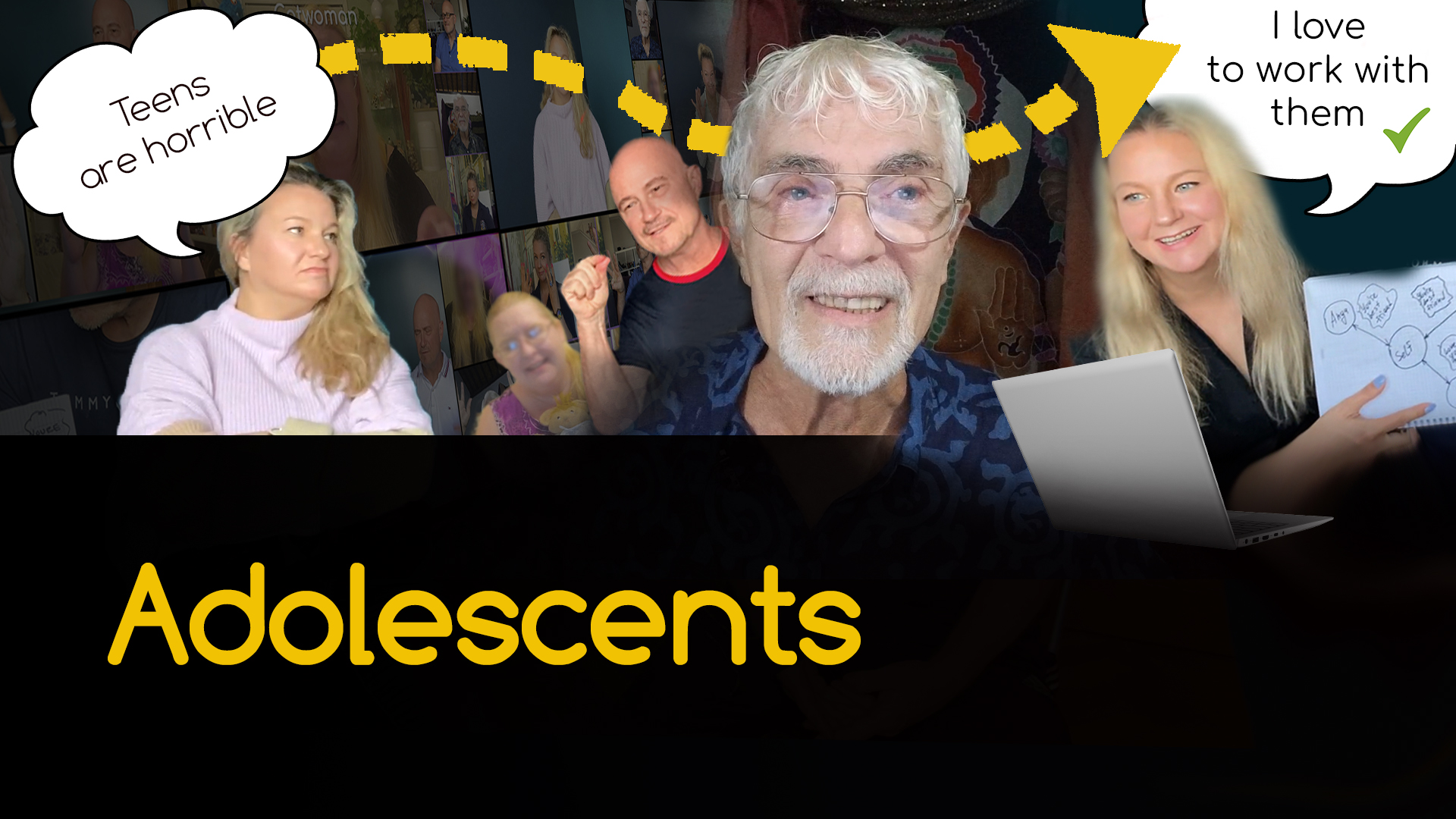 Rebels with a Cause: Working with Adolescents Using Action Techniques.
7 modules

Students can buy one separate module or the whole course of 7 modules with a bundle discount.
May we send you a biweekly newsletter?


When subscribed you will ONLY receive info on:
V Invitations for free limited-space courses
V Free video releases
V Newly released courses and discounts
V Invitations to our events


You will NOT receive:
X Spam

Check your inbox to confirm your subscription