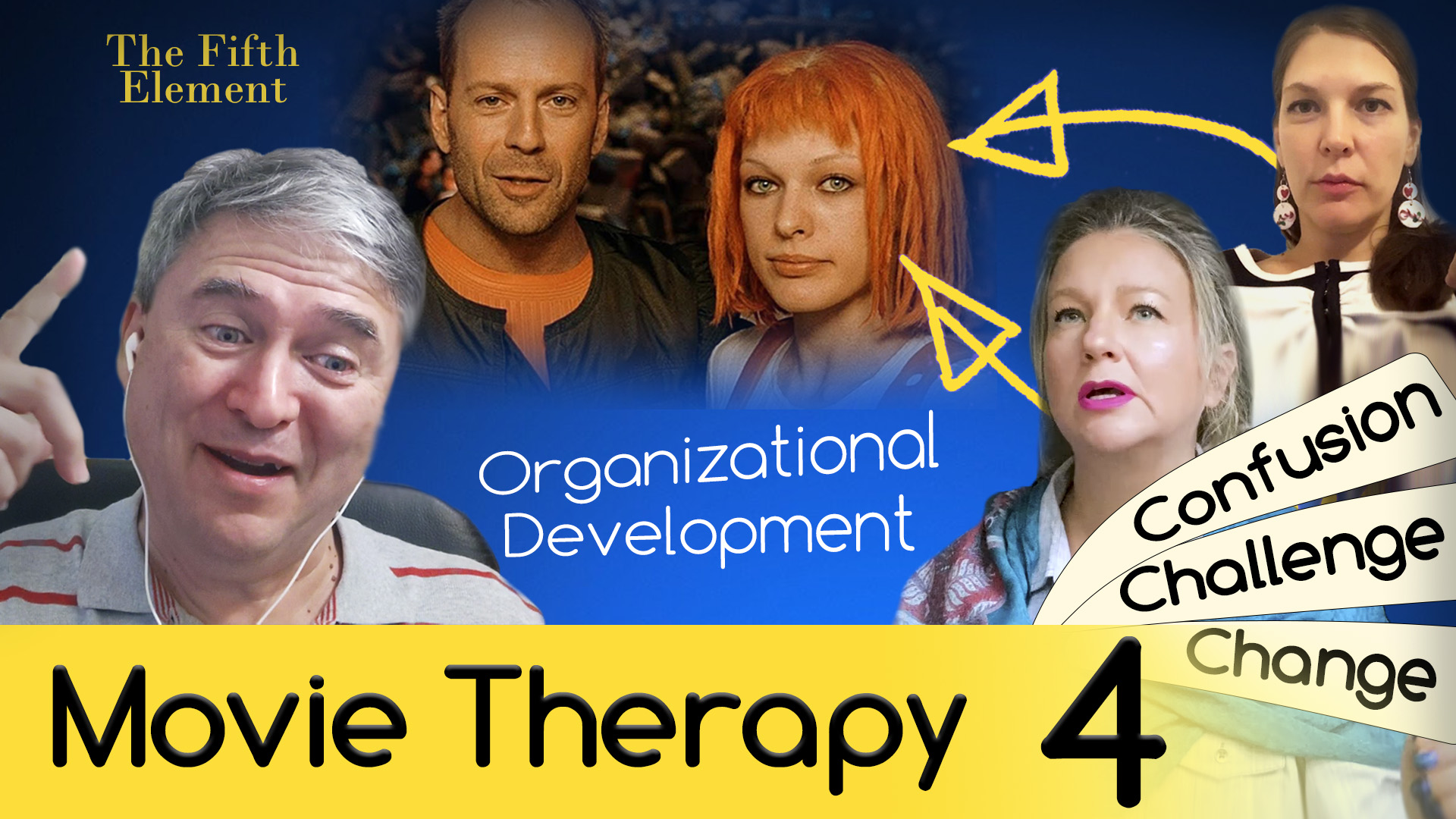 Movie Therapy
Module 4. Movie Therapy in Organizations. Organizational Development
with Alejandro Jiliberto Herrera, Spain,
LPsy, TEP, Clinical Psychologist, Educator, and Researcher
Implementing Movie Therapy into work with organizations, Alejandro Jiliberto demonstrates how to work with the challenges related to developmental changes.


This method is specifically effective in identifying the problems in organizations and finding creative solutions, training and developing new skills, working with conflicts, implementing change/or finding solutions when you only have one session, working with a high-resistance audience, community with a need for attitude change.
For those who are experienced or new to action methods online or in-person:
Educators, business coaches, therapists, social workers, psychologists, counselors, business owners. This module is appropriate for those who are new to action methods, as well as experienced practitioners, students in educational and mental health fields, and those who want to develop their skills in action methods.


Goal:
Identify the effects of change within an organization, and how it can be managed with the application of internalized images and movie representation.
Objectives: 
• Identify how a company can be developed by reflecting on it's members internal images of it
• Identify the organization training needs based on the three fears of change 
• Describe how to direct Movie therapy sessions in an organization
Presenter:
Alejandro Jiliberto Herrera LPsy, TEP, Clinical Psychologist, Educator, and Researcher, the Director of "Nexo Psicosalud"- in Madrid, Spain, and is a contributor to the Movie Therapy method. He is responsible for International Relations at AEP (Spanish Psychodrama Association). Alejandro is a Member of the IAGP, CAOA, and Organizational Consultant Section. He also works as a Psico-social researcher and methodologist.
Module Includes:

Main Content:

• Video lectures - 61 min
• Objectives. 
• Processing the Previous Module. Questions and Answers
• Challenges in Movie Therapy
• Fear of Change in Organizations
• Processing
• Video Demonstration - 46 min
• Warm up: Images Exercise
• Finding and Setting the Movie Scene
• Encounter with the Scene: Auxiliary Ego. Double Mirror
• Group Sharing 
• Psychodramatic Multiplication.
• Handouts - 15 min
• Test - 30 min
• Course Survey- 5 min
Recommended Content:
• Psychodrama with Adolescents. Interview with M. Cossa. 3 Parts.
• Practicum - 90 min


Hours for Certificate:
• 5.5 Hours on Action Exploration Education Certificate (applicable for Psychodrama certification)
• 3.5 Hours on CE (excludes test, survey and practicum time)


Information on Continuing Education Credits
Psychodrama professional certification training hours: 
• American Board of Examiners - ABE accepts a maximum of 120 training hours for psychodrama distant learning. This module/course will count as asynchronous distance-learning as long as the primary trainer approves it.
• International Boards: You may be able to submit this certificate to your local Psychodrama board. Please contact your respective local board for information.


To obtain Psychodrama training hours:
a) Pass the test with at least 70% correct
b) Fill in the survey 


Experiential training hours: 
• International Society of Experiential Professionals: ISEP accepts experiential training hours administered by a TEP trainer. More information will be provided shortly. 
Social workers, Marriage and Family Therapists, and Professional Counselors: 
• We are working on getting board's approvals and will update this information shortly. 


Other Disciplines:
• You may be able to submit this certificate for credits in other mental health disciplines. Please contact your local board for information.


May we send you a biweekly newsletter?


When subscribed you will ONLY receive info on:
V Invitations for free limited-space courses
V Free video releases
V Newly released courses and discounts
V Invitations to our events


You will NOT receive:
X Spam


Check your inbox to confirm your subscription